NEW FROM BLBA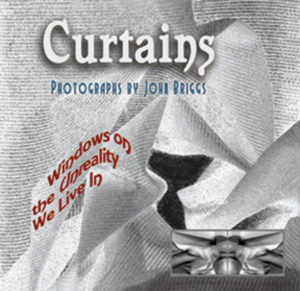 $14.95 PRINT. 32 pages. $6.25 E-VERSIONS.

Print Edition

Kindle Edition
For Nook and other e-pub devices
Windows on the Unreality We Live In
Curtains is a quick, dizzying photographic journey into the hidden realities lurking in the folds of puddled curtains that the photographer, John Briggs, found in windows of a central London office building. The photographer puts the curtain folds though simple transformations that result in strange creatures and eerie landscapes that suggest to him that everyday reality might be unreal.
The photographer wonders if perhaps the folds of these curtains "are examples of what's hidden in plain sight all around us, alternative versions of the marvelous unreality we live in."
The book includes an introduction in which Briggs, who has a Ph.D. in aesthetics, briefly discusses the nature of photography as abstract art.
"The curtain series are innuendos for the eye."
— Paul Caponigro, photographer
"These curtains are alluring mysteries of abstraction,
like sensuous musical shapes formed in the mind
and filled with undefinable feelings."
— Eric Lewis, violinist, composer
"A diaphanous landscape of the hidden and revealed…"
— Quentin Ball, photographer
"John Briggs takes us on a mesmerizing journey…"
— Eleanor Kerr, photographer